Most of our resources are downloadable. Our new Sparky Rewards range is going to be a series of rewards for your class that we have had printed. We started off with these VIP cards and our intention is to slowly increase the range over time. The aim of our VIP cards is to reward some of the things that we think matter.

Our VIP cards are aimed at rewarding character. In particular, giving your students credit for things like co-operation, empathy and kindness. We want them to know that these attributes are valued and that they matter. Don't understand what the point of them is? This tweet we received says it much better than we ever could...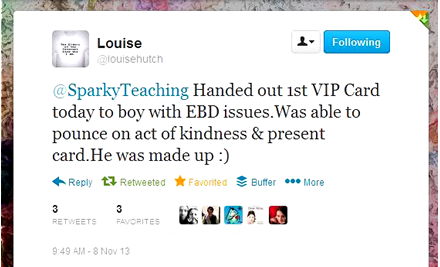 Printed on 400gsm silk coated card with a gloss-finish on the front, the cards are 54x85mm. Here's the wording:

Getting things printed is a new(ish) venture for us and we've sourced a printer who provides excellent quality. We want your students to get one of these and value it. The prices are as follows:
- Batch of 50 cards = £16.50
- Batch of 100 cards = £28.00
- Batch of 500 cards = £75.00
- Batch of 1000 cards = £118.00 £98 - Pop-Up Offer
POP-UP OFFER: Currently, all schools or individuals who order 1000 cards and who pay via the Paypal button on this page will get £20 off. Please note this offer does not apply to invoiced cards.
Postage and packaging is included in the price. If you want alternative amounts, get in touch and we'll give you a quote.
PERSONALISE YOUR CARDS:
REMEMBER - as with all our other cards, if your school orders 1000 or more, we can personalise them for you (school colours, badge, different wording, you name it). For example, King's Lynn Academy personalised their VIP cards to feature their school name (in their own font) and changed the character traits on the back to balance their existing reward scheme.
If you're interested in personalising your cards, you can find out more here.
HOW TO ORDER:
After choosing the amount you'd like below, you will be taken to a secure Paypal page to complete your purchase. We will need your full address to post the cards on to you. Remember to keep a copy of your receipt if you intend claiming the cost of your purchase from your school budget.
Would you rather we invoiced your school?
If you would prefer to pay by cheque via an invoice, click here and we'll sort one out.
'Sparky VIP Rewards' are copyright Sparky Teaching 2013.