The Revision Pack is a set of resources aimed at motivating your students into good habits and a positive growth mindset with their exams approaching. Schools tend to use the revision and growth mindset tips cards to supplement their existing resources - most often to include with cohorts in a school or department revision pack. Each set of cards comes with three motivational resources that have been tweaked to support revising students. At present, we are offering a discount of 10% for schools and teachers who pre-order now. Our resources are used worldwide by secondary and high schools who tread the line between inspiring students to be the best they can be academically and in those all-important ways that cannot be tested so easily - character and values. The Pack consists of the following (click each link and it will open in a new window):
Resources 3-5 have been tweaked in parts to encourage revision skills.
Why buy The Revision Pack?
- Provide students with a fresh look at exam preparation
- Achieve positive outcomes without losing any of your school's creativity, character and community in the process
- Promote a growth mindset across your school
- Foster creative ways of approaching revision
- Reinforce your core values
Interested?
You can purchase The Revision Pack as follows:

PAY DIRECTLY: This particular offer for schools is only available via the Paypal buttons on this page. If you wish to be invoiced, it will be at the normal price (without the 10% discount). Simply choose the pack size you require and click the direct payment button below which will send you to a secure PayPal checkout. Once we have processed your payment, you will receive an e-mail from us containing a link to the resource download pages and details of your card delivery. If you order the 1000 card pack, we will be in touch to discuss how you wish us to personalise your cards.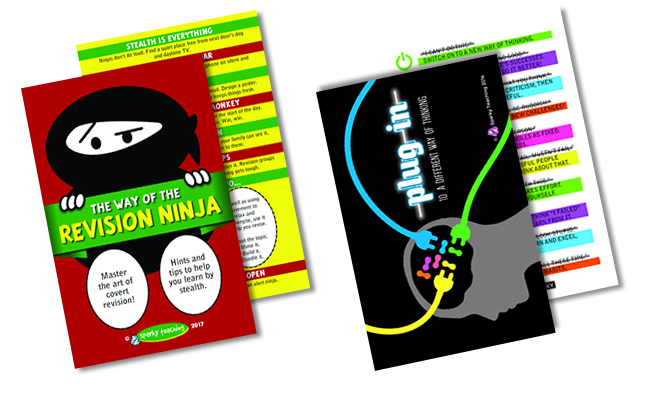 This edition of The Revision Pack is copyright Sparky Teaching 2017 (individual resources have differing copyright dates).