Category: Words Tags: books, leadership, review, Summer Reads 2014

If you're familiar with The Simpsons, you'll know Troy McClure — TV and Hollywood star — and his introductory catchphrase: "Hi, I'm Troy McClure, you may remember me from such … as …"
Vic Goddard, Principal of Passmores Academy, had been an inspiration to his staff, students and school long before the TV cameras rolled in and Channel Four brought them squarely into the nation's spotlight. No doubt many think of him solely in the context of the show… "Hi, I'm Vic Goddard, you may know me from such life-affirming documentaries as Educating Essex…" or, more depressingly, "Hi, I'm Vic Goddard, you may remember me from such poorly-researched newspaper articles as What sort of example is this to set our children?"
Although being labelled in this way is one of the pitfalls of reality television fame, Educating Essex merely brought to a massively wider audience the way Vic Goddard led his school long before the cameras ever showed up (and how he continues to do so now they've left). They just recorded it for the rest of us. More specifically, it served to highlight Goddard's wonderfully-positive philosophy on teaching and headship. In the introduction to 'The Best Job In The World', Ian Gilbert describes Goddard as "infectious", which (although we've never met him) is how he's always come across to us. His students and staff must feel valued. If you got to choose the captain of your ship, you'd want someone whose enthusiasm and positivity rubbed off on the crew…
Knowing we get a lot of blog readers from the other side of the pond (and Down Under) who may have never come across 'Educating Essex', here's a taster of that philosophy. This is a man who values what counts…
'The Best Job In The World' is more than an account of a TV documentary and how it affected a school. In it, Vic Goddard gives his take on what makes leading a school so special and, along the way, his enthusiasm and students-come-first attitude sparks something in the reader.
Prior to writing the book, Vic Goddard tweeted asking why those who didn't aspire to being a Headteacher held these views. He was disappointed with some of the negative responses he received and addresses these arguments in the book. For example the increased workload, having a skewed work-life balance, having the buck stop with you and the "inverse snobbery" of believing that classroom teaching is real teaching.
An aside: when teaching full-time (and, if you're a male in a primary school, you'll know the question of whether you see yourself as a Head crops up from time to time), moving towards Headship was never an aim. This wasn't because we believed it was the only way we could make a difference to children's lives (it wasn't), or the fact we felt like we were doing the important stuff at the coal face (we didn't) — these are the sort of snobbery arguments Vic Goddard counters. It was just that we loved teaching a class of kids all day every day. It was really enjoyable, that's all.
In addition to dealing with some of the reasons more people don't go into Headship, Vic Goddard also looks at what it takes to be a successful leader:
(For some reason, these brought to mind Sanka from 'Cool Runnings' when we read them! "I got Personality. I got Passion. I got Pride. I'm a bad Principal who don't take no messin' off nobody!"). He also addresses the fact that being at the top can be a lonely place and the self-doubt that is inevitable.
What comes across incredibly clearly in 'The Best Job In The World' is the strength of community and clarity of vision that Vic Goddard and his team have developed. Bridges have been built with potential parents (as well as those who opted to send their children elsewhere), a loyal staff has been established by promoting from within where possible, community ties have been enhanced and the school environment (a newly-built one) has been instrumental in creating something strong, nurturing and outward-looking.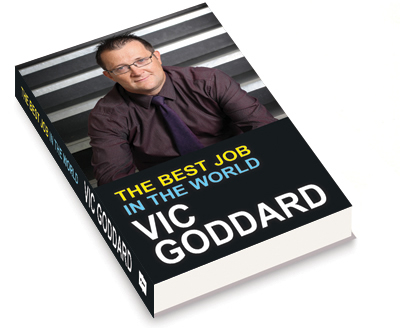 In Part Two of the book, Vic Goddard goes through the school improvement model being used at Passmores. Suitable for summer reading on the beach? Yep. As the author states, "You may have heard me talk about the issue of clutter and how much of it I think there is in education, both in our thinking and the way we approach things. School improvement models and plans are a case in point." He then goes on to introduce the Gordon Ramsay approach to school improvement, covering the menu (curriculum), customers (community) and the school environment along the way.
Whether you're feeling lonely at the top, aspiring to greater heights or not, 'The Best Job In The World' is perfect reading this summer. It's more than just is a headteacher's Ode to Headteaching or a leader's Ode to Leading. This is a teacher's Ode to Teaching. A battery-recharger that you'll come away from with renewed passion for the job and refocused on the things that matter. If you care about the fact your students come to you with all sorts of baggage and your role in helping them with it and teaching them despite it, you'll revel in Vic Goddard's philosophy.
When we advertise our Everything Pack on Twitter it often involves a tweet similar to a Kenning, using terms like "character-valuers", "test/life-rebalancers" and "creativity-fosterers". You can sum up the Principal of Passmores in a similar way.
And so, to misquote Troy McClure: "This is Vic Goddard. You may remember him from undertaking such student-valuing, staff-inspiring, community-involving, perspective-realigning roles as the best job in the world." Ian Gilbert's right. Infectious is the word.
OTHERS IN THE 'SPARKY SUMMER READS 2014′ SERIES:




FURTHER LINKS:
You can follow Vic Goddard on Twitter here
Find out more about his school at the Passmores Academy website
The Best Job In The World is available on Amazon here or via Independent Thinking Press here.


Spread the word:


Share
So, what do you think?