Jun 5, 2016
Category: Words Tags: books, design, dyslexia
To begin with, here's a case study:
There was once a boy who had dyslexia. His parents noticed signs of this fairly early on, but it was not until he moved from infant to junior school that a clear frustration with reading and schoolwork settled in. His parents' suspicions about dyslexia were confirmed one afternoon in the playground by way of a brown envelope passed from his teacher. The enclosed letter pointed towards his dyslexia, but also explained that nothing would be done about this until he moved on into secondary school. There were "no other dyslexic children in the school, you see".
Parents' evenings contained such comments as "What do we do with a boy like him?" and "We call him Lazy bones". Comments that still jar years later. The boy's parents, understandably, felt that he was not going to be given a fair chance in his current place of study. When the Headteacher commented that he ought to put his best foot forward or else he'd be a bin man, it was the last straw. The boy and his parents put their best foot forward and moved on to another school. One that understood dyslexia.
In his new school, the combination of "an amazing special needs teacher, a headmaster that was willing to listen and give every child a fighting chance and a most wonderful psychologist" gave the boy the support he'd missed out on.
Does this scenario ring any bells? How often have you seen or heard of dyslexic children going through the education system mislabelled and/or unaided? Many of the famous people who have dyslexia knew something was different about them when they were at school, but have only realised they were dyslexic in recent years. It must be hard not to bear a grudge against teachers who have labelled you lazy. If you haven't read James Rebanks' fascinating The Shepherd's Life, it's well worth it. Amongst the tales of life as a Lake District farmer, he gives great insight into the sense of injustice and anger that some children can feel if their needs are not recognised or catered for. Despite the amazing provision out there and superbly supportive schools, unfortunately it can still happen.
Perhaps the most useful way to understand dyslexia is through the eyes of those who are dyslexic. This is why we have found books such as The Little Book of Dyslexia so useful. It is written from personal experience. It allows us, as teachers, to empathise. And from there to alter our provision to be able to support.
Sam Barclay's book, I Wonder What It's Like To Be Dyslexic is a work of art. It's the sort of book that oozes class (for book-odour-connoisseurs, we can happily report it's one of those that even smells good!). Sam is a graphic designer and the book merges typography and graphic design with dyslexia and the role printed text plays in reading difficulties.

Typography is the art and technique of arranging type so as to make it legible and appealing when displayed. Think "the art of the written word" and you won't be far off.
In looking at the features of the written word that can make reading more difficult for those with dyslexia, Barclay helps us to understand. As well as provoke ideas as to how we can make the written word more accessible, I Wonder What It's Like To Be Dyslexic importantly shows us what not to do if we want to support those with dyslexia.
Through short two-page examples, the book takes us through considerations of typeface (capitalisation, shape of words, choice of font, spacing and alignment) to a look at language and how the words on the page are viewed by those with dyslexia. Don't expect a wordy book — Barclay's design ensures there is plenty of white space. Do, however, expect to be challenged and made to think about the words that are there. For the dyslexic, it can feel like books contain letters that move, words that play tricks, spellings that confuse. Barclay has created a design-led experience that shows just what it is like to struggle with reading.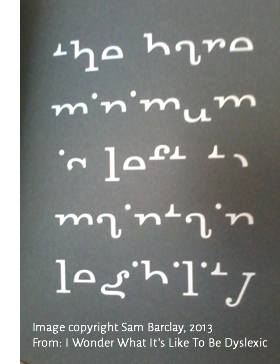 I Wonder What It's Like To Be Dyslexic would make a great gift for those who have or work with those who have dyslexia. Are books on special needs enticing? This one is.
We can see it being used (as we have) by teachers who want a greater insight into life with dyslexia. It is also for those who love a beautifully designed book (our copy was accompanied by tasty touches such as a wrapper that opens out into a typographic poster, button badges and bookmarks to match — a bibliophile's dream).
Get a copy for your school and put it in your staff room. We guarantee it will be dog eared and/or disappeared within a couple of weeks and can't imagine too many other coffee table books on special needs being so avidly read and admired.
We can also envisage it sitting on a class bookshelf to be flicked through by students who are dyslexic. For them, it should prove empathetic and encouraging in equal measure.
The main point to make about I Wonder What It's Like To Be Dyslexic is that it has the ring of truth about it. It allows us to empathise. Why? Because the case study at the start of this article is true. It is the story of the author of this book.
After moving junior schools, Sam Barclay received some of the support he needed, although achieving this was still a struggle. He went on to achieve a first-class honours degree, a commendation from the ISTD (International Society of Typographic Designers) and, alongside his graphic design work and lecturing, found time to create this work of art.
In amongst the typographical treats, one feature sits quietly. On the inside front cover is a small Erratum sticker. It reads as follows:

The mistakes that appear here and there in this book may jar the sensibilities of spelling purists. But, those who are bothered by such things have completely missed the point of the book. That Erratum sticker is fantastic. It made us smile and taught us that every little spelling error in the text shows something so much more important than many of the other books we've read on dyslexia…
…this time it's personal.
FIND OUT MORE:
Follow Sam Barclay on Twitter.
You can get his book here.
We posted an experiment in code — What Is It Like To Read With Dyslexia, which you can find here.
Spread the word:


Share
So, what do you think?