Category: Teaching Tags: downloads, maths, resource
Recently we spotted a really good rhyme on Pinterest — a rhyme to help your students learn the different ways of calculating averages. We didn't invent the rhyme, which is based on the nursery rhyme 'Hey Diddle Diddle', but we decided it was so good, we thought it was worth sharing…
We take no credit whatsoever for the rhyme and if you know who came up with it, we'd love to feature them here as a downright sparky teacher.
Here's what our poster looks like: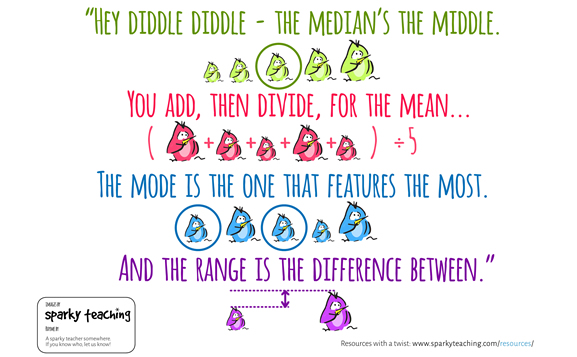 You can download it by right clicking here.
Hit the new term running with our Twitter for Teachers Guide as well as our FREE book offer for sparky schools.
Spread the word:


Share
So, what do you think?
Really like it that, will work well in the classroom

My dad learnt this at school in the 1950's and has recently taught it to my son! Old skool is good!

Its a nice ryme to remember maths and it sounds really great to