Category: Words Tags: activity, books, Christmas, poetry
"One Christmas was so much like another, in those years around the sea-town corner now and out of all sound except the distant speaking of the voices I sometimes hear a moment before sleep, that I can never remember whether it snowed for six days and six nights when I was twelve or whether it snowed for twelve days and twelve nights when I was six."
So begins Dylan Thomas' 'A Child's Christmas in Wales' — one of our favourite seasonal books (the version illustrated by Edward Ardizzone — no other will do!)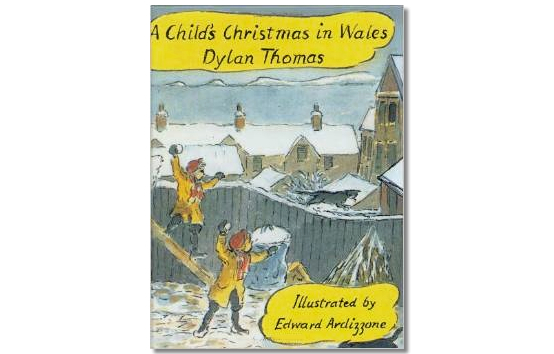 Dylan Thomas © Orion Children's, 2006
It's got nothing to do with the fact that we love romanticizing Christmas. We don't really. Sadly, its true meaning gets lost so often behind the frills.
It's not because the book is based less than five miles from where we are typing this and the cover illustration shows a view of our town we are familiar with, heart-warming though that is.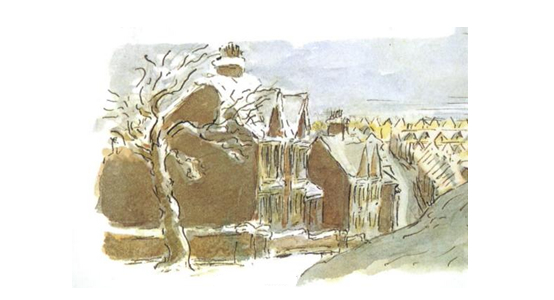 Illustration by Edward Ardizzone © Orion Children's, 2006
It's the combination of the brilliant Edward Ardizzone's illustrations, pencil marks still visible, and Dylan Thomas' writing, which as usual is more poem than prose. To us, it just exudes wintry cosiness and Christmas. Even the praise inside the front cover is powerful:
"…even a tiny vignette of three postmen, sacks on their shoulders in the snow, hums with the pleasure of the senses." — The Listener
What kind of book is this that even a review inside the front cover can do something to us inside?!
It's been 100 years since Dylan Thomas was born. There have been all manner of celebrations and commemorations on TV, radio, in the locality and across the country. He's not always easy work and we'll never forget battling through 'Fern Hill' with a Year 6 class not so long ago. Not a good lesson! Happily, 'A Child's Christmas…' is more accessible and we're pretty sure will resonate. Is it because it's one man's memory of Christmas childhood and we all can empathize with the wonder of Christmas as a child?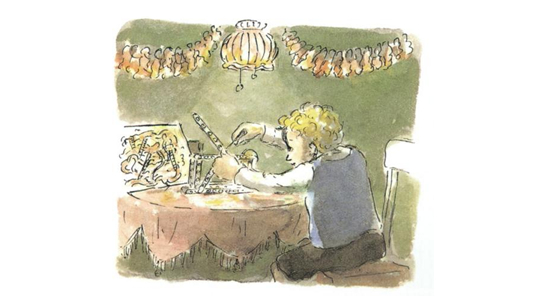 Illustration by Edward Ardizzone © Orion Children's, 2006
Or is it that a poet has a way of touching the heart, even when he/she writes prose? Maybe for you it's another book, piece of music or poem. One person's 'Child's Christmas' is another's Diggy Takes His Pick or The Snowman.
And so onto our challenge for your students. Starting with 'A Child's Christmas in Wales', discuss the word 'evoke'. It's not a word we use a lot in school, but it's one students will understand. How can words on a page evoke something? What are the sights, smells and sounds that bring Christmases past flooding back for them?
An idea: Cerys Matthews has a new album out where she puts 'A Child's Christmas in Wales' to music. It's a beautiful thing. It might be a way of inspiring writing. Here's a taster…
Your students' challenge is to evoke Christmas. They should produce a piece of writing that is so descriptive it's poetic. Something that will make the senses of whoever reads it hum.
If you want to email/tweet any examples, we'll happily find a home for the best on this page and share links to any work on your class blog.
We're not normally romanticizers of Christmas — there's more to it than that — but sometimes a book just clicks.
"Looking through my bedroom window, out into the moonlight and the unending smoke-colored snow, I could see the lights in the windows of all the other houses on our hill and hear the music rising from them up the long, steady falling night. I turned the gas down, I got into bed. I said some words to the close and holy darkness, and then I slept."
Earlier this year, as part of an 'Art Across The City' project, a huge slogan was painted across the end wall of a building in our city. The sea is only the other side of the main road. It's probably less than a mile from where Dylan Thomas grew up. The project is long-finished. The artwork is still there and will still be there looking down on Christmas shoppers as they hurry back to their cars, too busy to read it.
It's a call to arms…

Image © Locws International, 2014
Get to it!
Spread the word:


Share
So, what do you think?