Category:

In Phil Beadle's 'How to teach' he talks of using the Terry Venables approach to giving praise in the classroom. For those of you who don't know, Terry Venables ('El Tel' to his friends) was/is a football manager and all-round loveable Lahndahner. Beadle introduces El Tel's verb system "to done" — as in "you done magnificent today". It's a funny section of the book, but Beadle's serious point is that if pupils are praised using the sort of language they hear out of school, it carries more weight and instills more pride. As he says: "Speak to them in the voice and the language of their fathers, and you will be hitting them where they live."
A couple of weeks ago, amused by the links between football cliches and teaching, we started a series of tweets with the hashtag #ClassroomPracticeInspiredByFootballManagers. The following is what's left of the result. Apologies to Mr Beadle for taking what was a somewhat serious point, taking it and running with it off into the distance…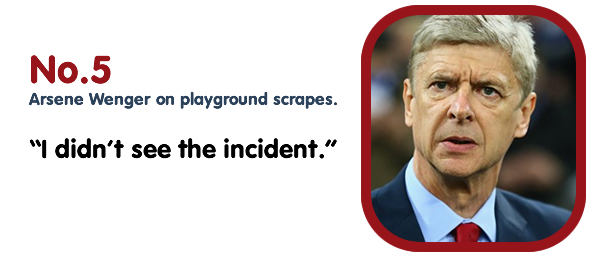 Our cliche stickers…
Some tweeters joined in…
Let us be a lesson to you all. Some things are best left where they were…

Spread the word:


Share
So, what do you think?
Leave a comment...