Category: Thoughts Tags: creative, inspiring, spin doctors
We're sitting down to write this blog with the television on in the background. As we type, there has just been a programme trailer on BBC1. It was the sound of a pinball machine pinging and rattling. As we glanced up, the trailer graphics showed what you'd expect — a pinball bouncing around, doing whatever pinballs do best.
What do you think the programme being advertised was? A game show? The National Lottery draw?
A metaphor we've been thinking of a lot lately is the idea of teachers as spin doctors. By which we mean "people who take a piece of information and present it in a particularly interesting and engaging way for their own purposes" as opposed to "sweary political manipulators" or even "one-hit wonders from the 90s."
Our experience is in teaching at primary level (Elementary, my dear U.S. teacher) and, despite the fact that there's a lot of truth in @MrLockyer's tweet…
There are few jobs where you seriously consider 'would a rap help here?' #goprimary

— Stephen Lockyer (@mrlockyer) October 9, 2013
…the idea of taking a concept and presenting it with a certain spin is universal. Sparky teachers — primary, high school, special needs, assistants, elementary, lecturers, foreign languages, early years — look to make subjects interesting (and therefore memorable). And, truth be told, sometimes those subjects need a helping hand don't they?!
As ever, it's all about the end result. We saw a quote from someone this week: "Teaching: it's not about the income, it's all about the outcome". There's no point in spending your weekend writing a street poem about French verbs unless it's going to fire up your Year 8 class on Monday and embed the knowledge without diminishing it. You'd just be giving Mr Gove ammunition to include in his next speech. If, however, the spin you put on your topic is going to impact positively on learning, then go for it, because it's one of the most powerful tools we can use.
Alan Peat, in his book 50 Ways To Retell A Story gives all sorts of ideas for rewriting a story using different genres. This is a concept that stems back to the work of Raymond Queneau and the Oulipo movement. Most famously, Queneau took the 'story' of a man on a bus seeing another man twice in one day and rewrote it using 99 different styles. The subsequent book was 'Exercises in Style' and Matt Madden took the idea into graphic novel territory to produce '99 Ways To Tell a Story' (unlike Peat's book, neither of these is aimed at teachers, but if you like being made to think creatively, you'll find them interesting).
The point with all of this is that the juxtaposition of two contrasting ideas can really help to a) get learning to stick and b) allow insights into a topic that perhaps might not be apparent. Phil Beadle talks about this in greater detail and with more clarity than we could muster in his book on teaching creatively, Dancing About Architecture. The trick is spotting opportunities to 'spin' successfully…
One man's rainy day is another's Impressionist painting: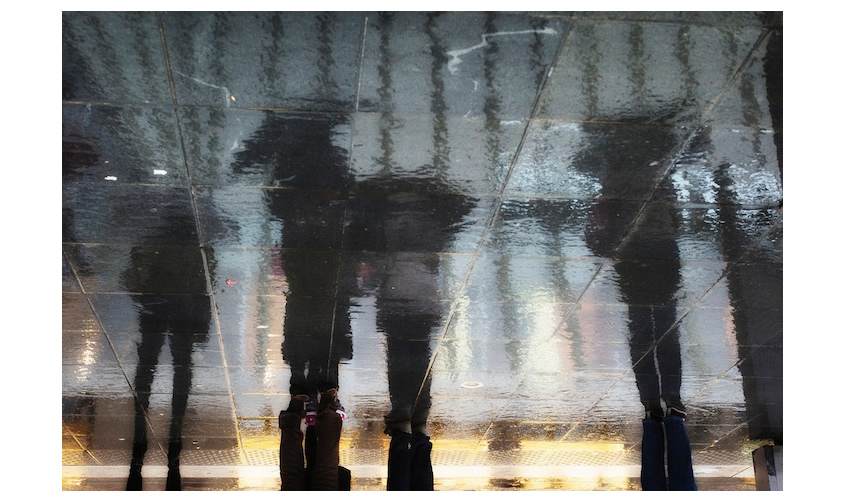 Image used courtesy of Yodamanu's 'Reflections' series — see here
One man's tense movie confrontation is another man's harmonious illustration:


'

The Shining' used courtesy of Scott C's 'Great Showdowns' series — see here
And here's an interesting couplet… You say "Disney classic", I say "scary film":


Or you say "scary film", I say "Disney classic":


It's not just about how we frame the subject matter in our teaching, however. Our students can often benefit from activities where they become the spin doctors. In the past week, @ICT_MrP's Year 6 class at Davyhulme Primary School have used Alan Peat's genre-altering idea to come up with some great spooky twists on traditional fairy tales. Another example is this group of 7th Graders from California, bringing science history to life…


There's a false dichotomy between 'learning' and 'fun', but those of us who do relish the challenge of hooking students into subjects do need to be clear that what we're doing is effective. As we discussed here, student interest can be piqued without what our present Education Secretary in the UK would consider a dumbing down of subject matter. In reality, every single teacher is a spin doctor of sorts. Everybody makes a conscious decision how to present the information that needs to be taught in order to convey it in a way that we hope will stick. One teacher will choose to use text books to teach science history, another will go for the rap option. We're not trying to suggest which is more effective (although you can guess which we'd go for!), we're just trying to point out that re-framing information is something we all do, all the time. For a robust and logical walk through the idea of fun, learning and the combination of the two, @imagineinquiry's blog post will give you something to chew over here.
So, in the interests of making your subject matter stick, we'd encourage you to spin your subject matter where it would benefit from it. It's not as tricky as it sounds — we just Googled "photosynthesis joke", "photosynthesis song" and "photosynthesis rap" and there are plenty of examples of all three (we didn't get as far as "photosynthesis sonnet" or "photosynthesis crime scene", but no doubt there are some of those too). If you're not sure how effective your own spinning will be, get your students to do it — if you plan the task carefully, you'll be impressed with their results.
Incidentally, the BBC1 pinball programme ad was nothing to do with the National Lottery, it was for their coverage of a tennis event — the ATP World Tour Finals. "Weird" you say? Yes, it was an unusual juxtaposition, but we've remembered it and no doubt you'll bring to mind this article when you see it.
Presumably that means their spin worked?

Now get out there and look at rainy days upside-down.
SPARKY SPINS:
– Spelling, punctuation and grammar via a hard-boiled detective agency — The League of Literacy


- Encouragement for reluctant readers in a provocative style — OPEN UP. ZONE OUT. READ ON.
– Maths via TV game shows Game Show Math(s)
– Maths question preparation via leaked documents from the malicious people who devise them — The 'M' Files
– Similes and metaphors via The Apprentice You're Inspired!
– CPD (PD) posters via airline safety posters — You'll Fly With CPD!
Spread the word:


Share
So, what do you think?