If you value who your students become in the coming year as well as what they achieve, these are for you. Character counts.

This superb offer is almost 2/3 off! All our downloadable resources in one pack, plus 50 Reward Cards. Popular with creatively-minded, character-valuing schools and teachers. For the US version of the same pack, click here.
*NEW** for the Autumn Term 2017. Hooks, hacks, teasers and tricks to ignite your Maths lessons.
We are currently personalising every purchase of our Complete Messages That Matter resource. It's used by schools and colleges worldwide and you can have a copy that features your name/class/school. Simply use the button below to pay and then we'll be in touch to discuss your preferences.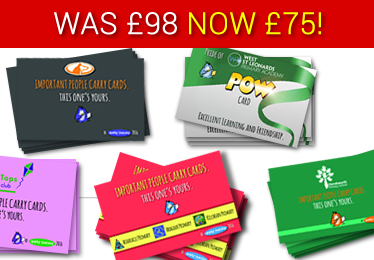 WORTH £118 NOW £75 (for 1000 cards)
Our personalised cards are particularly popular this time of year. We can only sell them in batches of 1000 or more, but we're currently offering 25% off. For more information, click here. Once you have ordered, we will then discuss your design requirements and design your cards for you.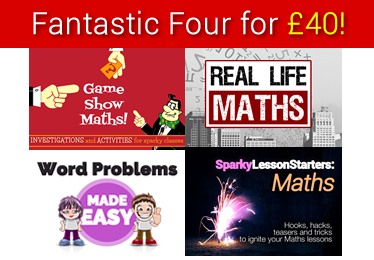 Four sparky Maths resources at 75% of the normal price. Game Show Maths, Real Life Maths, Word Problems Made Easy and our newest resource Sparky Lesson Starters - Maths in one bundle. This bundle is only available via the button below.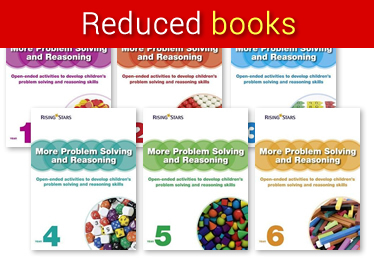 We are able to offer certain books at significantly reduced rates. These tend to be books that we have written all or part of. To see what we currently have on sale in the Sparky bookshop, click here.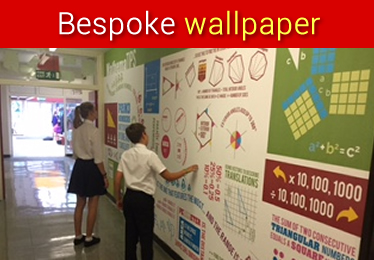 This photo shows the Mathematips wallpaper we recently designed and printed for a middle school in Somerset. If you've got an empty wall and are looking for something sparky to put on it, do get in touch. We'll happily discuss your ideas and come up with a quote based on the size of wall you are looking to fill. The above Mathematips wallpaper consists of lively maths tips suitable for KS2 - 3, but we are not limited to this! The wall's your oyster!
Offer only applies to non-invoiced direct payments via the Paypal button above.